Secluded camping at Ty Parke
A completely private space for when you want to be right away from it all.
The family camping meadow is spacious, never crowded and very peaceful. But if you really want to get away from it all, you can choose to camp on one of our secluded pitches. There are now seven secluded camping pitches, dotted around the farm in private, hidden away locations. Two of the secluded pitches are ideal for small gatherings of two or three families who want to camp together in their own private space. These are also perfect if you have a campervan or caravan.


Your very own piece of Pembrokeshire
Even though you are right out there on your own, you're only a short distance from the showers, facilities and drinking water taps. As with the family camping meadow, each secluded camping pitch has its own picnic table, campfire place and barbecue grill.
Once you are out there you'll be amongst the sights and sounds of nature. Late at night listen out for foxes, badgers and owls going about their nocturnal routines. In the daytime, watch aerial displays from swallows and buzzards. Explore the farm from the mown tracks, footpaths and hidey-holes that criss-cross the land. And there's a shallow stream that bounds our land to go splashing along.


This might just be the most low density camping in Wales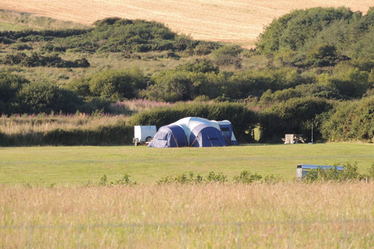 We can't think of another campsite that offers this much space and freedom for a camping holiday. There is £5 per night supplement for the secluded pitches, which are available on a 'first come first served' basis. So if secluded camping is your thing, you need to book early!
What's included with the secluded pitches
Just like the meadow camping pitches, each of the secluded pitches comes with a campfire place, one of our adjustable BBQ grills that fits over the campfire, a picnic bench and tons of space for even the largest of tents. You can take you car down to the pitch but if it's been particularly wet (as if), we may ask you to leave you car up in the stable yard.
Welcome to Pembrokeshire!
Get back to nature and enjoy a fantastic camping holiday at this totally unique campsite.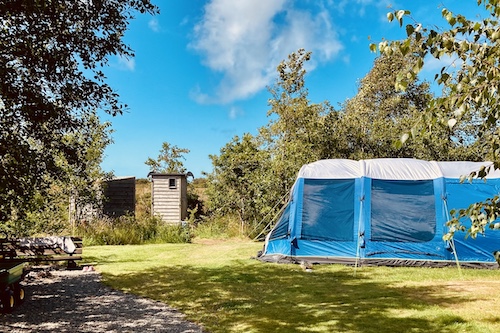 Close to breathtakingly beautiful coastline and unspoilt beaches
52 acres of private farm and woodland to enjoy and explore
Just 15 spacious camping pitches
Cosy campfire and picnic table on every pitch
Pizza nights right through the summer!
Five-star showers and facilities
Undercover areas for rainy days
Body boards and children's wetsuits available to borrow
It's the stuff of lasting memories, with our peaceful location, friendly atmosphere, great facilities, crackling campfires and spacious pitches.