Facilities at Ty Parke
Camping is a great way to get back to the basics and live naturally. But even the most seasoned campers can be pushed to the limits of endurance when a campsite's facilities are a bit past their best, not properly maintained, or overcrowded. At Ty Parke we like to make sure you have a really enjoyable camping holiday in every respect - and that includes the facilities.

Described by many of our guests as 'better than you get in some hotels', the impeccably maintained facilities are close by in the main barn. You will also find a washing machine, drying lines, four fridges and a chest freezer for your ice packs. There's even an electric kettle for emergency cups of tea and coffee!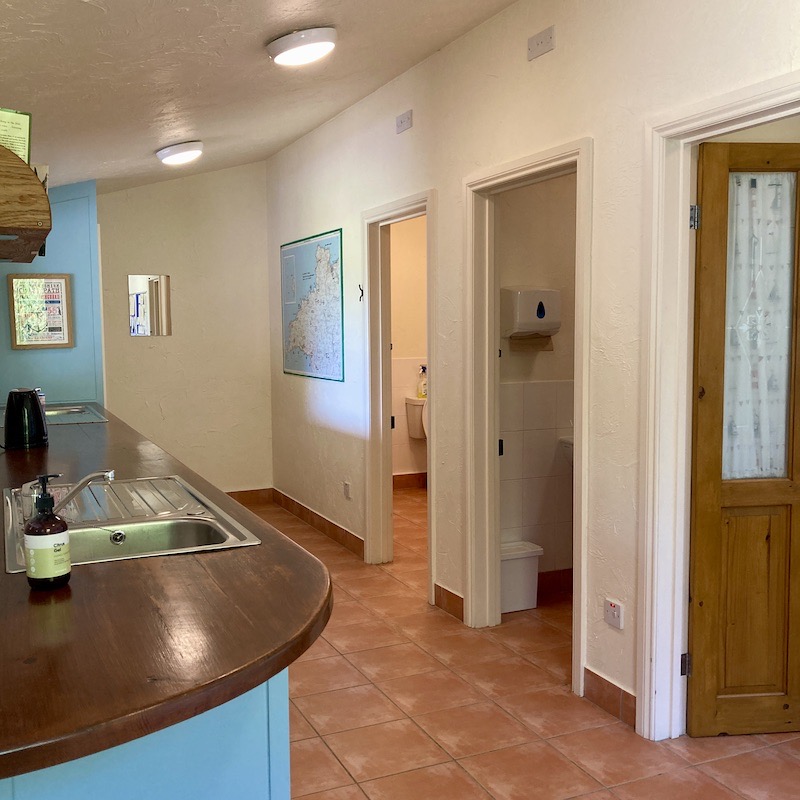 What's included...
Two nice family size shower rooms with WC and hand basin
Another separate WC with hand basin
A large washing-up area with two washing-up sinks (inside)
A large washing-up area with two washing-up sinks (in the covered barn area)
Solar-heated hot water (backed up by immersion heaters)
Washing machine (for which there is a small charge)
Three refrigerators
Chest freezer for your ice packs
Charging points for mobile phones etc.
Books to borrow or swap and information galore!
Outside drying line
Large water butt for rinsing sand off wetsuits and swimwear
Local information and maps
We also have an information board with a large map of north Pembrokeshire and lots of information leaflets describing things to do and places to go. The notice board gives information on the best beaches, places to eat, where to buy groceries and emergency contacts. There is a tide clock so you can choose the best time for a trip to the beach.


Recycling
Operating a campsite generates a surprising amount of waste. We encourage our guests to recycle as much as possible while staying here. We realise it takes a bit longer to do - but it's much better for the environment than stuffing it into landfill. We have recycling for glass, tins/cans, plastic, paper, cardboard, drinks cartons, metal and foils, batteries and green waste.


Out in the camping areas
There are labelled drinking water taps in the family camping field and the adjacent secluded camping fields. Every pitch has a picnic table, campfire place and a specially made adjustable camping grill. All three premium secluded pitches have their own compost loo, camp kitchen shelter and alfresco shower. Tiger Moth, Woodpecker and Grasshopper pitches have access to a compost loo as an added convenience.


Buckets, spades, wetsuits and body boardsWe have good supply of buckets and spades for the beach (getting more numerous every year), so no need to buy, just use ours. We have several child size wetsuits - free to borrow. We also have a decent selection of body boards ready to surf the waves!

WiFi accessWe don't have public wifi but if you really need an internet connection for something, come up to the farmhouse where you are welcome to connect to ours.
Welcome to Pembrokeshire!
Get back to nature and enjoy a fantastic camping holiday at this totally unique campsite.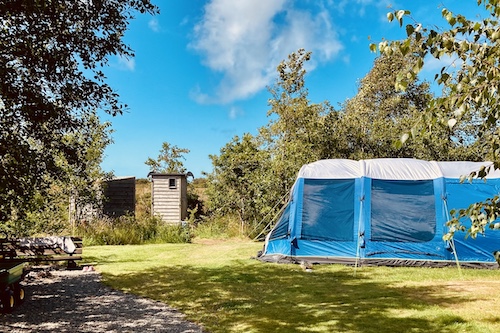 Close to breathtakingly beautiful coastline and unspoilt beaches
52 acres of private farm and woodland to enjoy and explore
Just 15 spacious camping pitches
Cosy campfire and picnic table on every pitch
Pizza nights right through the summer!
Five-star showers and facilities
Undercover areas for rainy days
Body boards and children's wetsuits available to borrow
It's the stuff of lasting memories, with our peaceful location, friendly atmosphere, great facilities, crackling campfires and spacious pitches.