Dingley Dell Yurt
This handsome 20 ft yurt is our most secluded.
We have sited this yurt about 400 metres from the main facilities, on the wilder western edge of the farm. It is reached along its own private track that's bordered by young alders. This is the place where you will see swifts, buzzards and from time to time red kites too. In the evening you might see our resident barn owl swooping over.


Warmth, comfort and space…
… but still cosy under canvas. Inside the yurt there's a fitted wooden floor with rugs and sheepskins. A comfortable double bed, two single futons - which fold up to make comfortable daytime seating, a table and chairs and a wicker storage box for the futon bedding.
As with all our yurts, this one is heated with a wood-burning stove - and there is a huge supply of firewood up in the barn. So no matter what the Great British weather may be doing outside, you will always warm, cosy and dry inside.


Fully equipped yurt camp kitchen
A few steps from the yurt is one of our new style camp kitchens for your personal use. In here you'll find a full-width worktop, with four ring gas cooker, cooking utensils, a good range of crockery and cutlery and a six-seater picnic bench - so you can choose to eat in here or in the yurt.

There is also a large food storage chest and a cool box (replacement ice packs are in the chest freezer up at the showers). At night time the camp kitchen is lit up by twinkling solar-powered fairy lights. Outside the yurt there is a large grassed area where
you can bask on sunny days and play games. There is also a campfire and BBQ area as well as two of our 'stargazer seats'. So you can just sit back and enjoy the amazing starry sky.


A little bit of extra convenience...
Discretely positioned a few metres from the yurt is another of our hand-crafted, dry composting loos. So now there's no need for the dash to the main facilities! They work brilliantly but there are rules to be followed! Full instructions are provided upon arrival.

We've hardened up the tracks so that no matter what the weather conditions, you can always take your car down and park it just a few metres from the yurt.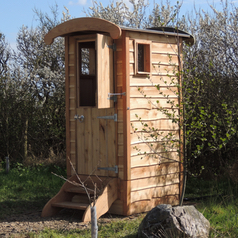 Book this yurt for a relaxing short stay
Recharge your batteries and book this cosy yurt for a short stay from just £85 per night. All you need to bring are personal things because we provide everything else! To make a booking, please
click here
. For a detailed list of what's included with the yurts and suggestions of what to bring, please
click here
.
If you prefer, give us a call on 01348 837384 or 07815 737748.