Luxury yurt glamping holidays in Pembrokeshire
Three lovely, handcrafted yurts set in private locations around the farm
Each yurt comes fully equipped for your luxury glamping holiday, so leave all your camping equipment behind and enjoy that special 'living under canvas' experience. We think we have thought of everything for your yurt holiday, so apart from your personal things and food there's nothing else to bring!


Inside the yurts
Each yurt has a wooden floor with wool and sheepskin rugs. There's a comfortable double bed and two single futons or twingles. There's a table and chairs and a large storage basket for the futon bedding and extra wool blankets. And of course there's a wood-burning stove to keep you warm and cosy.
Outside the yurts
Outside each yurt there's a sitting out area and campfire place, which includes a specially made camping grill for BBQ's. There are two 'stargazer' campfire benches, so you can enjoy the evening sky and views over rolling farmland. The secluded, hideaway yurts each have a private use compost loo.


Choose your perfect yurt…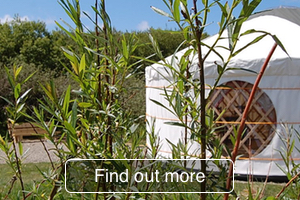 Willow Bank is tucked away in its own very private location, close to the shallow stream. From here you can explore the area of the farm we call the 'rough' while the children have fun damming up the stream and sloshing around!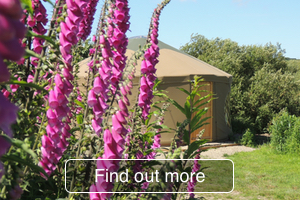 Foxgloves is our most recent addition - made in 2015 and our third hideaway yurt. It's located in a lovely sheltered spot that's teeming with foxgloves (hence the name) and is close to the shallow stream that bounds our land.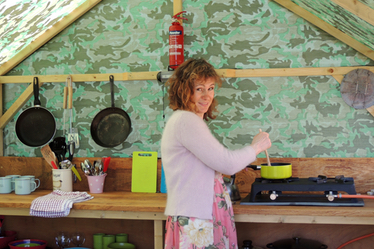 We think it works much better to do food preparation and cooking outside the yurt. Therefore, each yurt has a fully equipped, covered camp kitchen just a few steps away. Each camp kitchen has a full width oak worktop with a two-ring gas cooker and all the utensils you'll need.
Plus there are cups, plates, bowls, wine glasses etc, a cool box, food storage box and water carrier. There is also a picnic bench in the kitchen so you can eat in there as well. And for night times, there are solar-powered and candle-powered lights. Ty Parke is the place to go glamping in Wales!
If you prefer, give us a call on 01348 837384 or 07815 737748.